Get to Know Lori Williams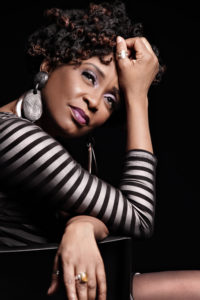 Acclaimed international Jazz and vocalist Lori Williams has a most impressive resume as a performing artist, music educator, songwriter, producer, and musical theater actress with over 25 years of experience. Her annual vocal jazz tour has taken her to Europe (Austria, Germany, Slovakia, Russia, Switzerland, Czech Republic, and Ukraine), Japan, British Virgin Islands, and across the USA.
As a veteran educator who teaches voice privately, Lori's received many honors including Outstanding Music Teacher, the 2007 Superintendent's Arts Teacher of the Year, and the 2010 Vincent E. Reed Teacher of the Year. Lori was nominated for a 2014 Helen Hayes Award as an Outstanding Lead Actress in a Resident Musical for her role as Ella Fitzgerald. Lori has received letters of recognition for her performances by President Joseph Biden, Speaker of the House John Boehner, and Senator C. Anthony Muse.
For over three decades, international Jazz and Soul recording artist Lori Williams has worked with many notable artists as lead / background / studio session / guest vocalist including Oleta Adams, Yolanda Adams, David Archuleta, Eric Benet, The Blackbyrds, Norman Brown, Tom Browne, Peabo Bryson, Chuck Brown, Wayne Bruce, Jerry Butler, Jonathan Butler, Paul Carr, Terri Lyne Carrington, TC Carson, Gene Chandler, Renato Chicco, Stanley Clarke, Nick Colionne, Collaboration, Michael Colyar, Chris "Big Dog" Davis, John Di Martino, Will Downing, George Duke, Nathan East, Troy Sol Edler, Kevon Edmonds (After 7), Jorel "JFLY" Flynn (HBIYD), Derrick Gardner, James Genus, Savion Glover, Chelsey Green, Slide Hampton, Winard Harper, Christian Havel, Walter Hawkins, Howard Hewett, Weldon Hill, Tony Hightower, Jessy J, Al Johnson, Allyn Johnson (Divine Order), Marcus Johnson, Stanley Jordan, Kindred the Family Soul, Ben E. King, Saltman Knowles Group, Rayshun LaMarr, Lavahi, Dee Lucas, Timmy Maia, Alex Malheiros (Azymuth), Maysa, Daniel McClain (After 7), Frank McComb, Marion Meadows, Najee, Julia Nixon, Phil Perry, Robert E. Person, Anne Phillips, Lloyd Price, Althea Rene, Ellie Saitoh and The Love Tambourines, Sylver Logan Sharp, Tony Terry, Unit 3 Deep, Gerald Veasley, Chris Walker, Kim Waters, Anthony Wellington, Bernhard Wiesinger (Poysdorf All-Stars), Vesta Williams, Angela Winbush, Sherry Winston, Frederic Yonnet, et.al. 
Lori currently has six independent CDs. Listen to and purchase her music on all streaming sites, LoriJazz.net and LoriJazz.com.